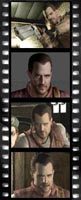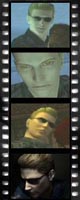 When you say Resident Evil Voice acting, most of the water cooler talk revolves around the extremely poor acting in the original Resident Evil game. However as bad as the original acting was, it's very memorable. With each installment in the series, the voice acting seemed to improve dramatically. Capcom realized that good voice acting was a requirement in each game. With that in mind they brought in better talent, and the results show.

The voices behind the characters are the strongest factors in their personality. This is highly evident in the main characters, as much as it is in the characters with more diminished roles. Take for instance the voice personality of Alfred Ashford. The eccentric laugh, the high-pitched abnormalities in his speech. Would Alfred be half as memorable with anything less? I think not.

To learn more about some of the people that brought personality to the Resident Evil Series, click on a name to the left.