Impressions By Mike "Wirebrain" Stevens.

(Note: Click on the screens to see larger versions)
Umbrella causes Outbreak in San Francisco!
Or
How I survived the Resident Evil Outbreak Premiere at the Metreon.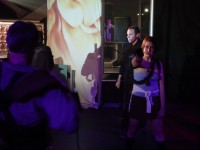 Welcome to the world of Survival Waiting…

On Friday, April 2nd, Capcom and the Sony Metreon, located in San Francisco, held a special event to commemorate the release of Resident Evil: Outbreak - the long awaited online enabled adventure that allows you and several friends to survive the chaos that occurred in late September of 1998 in the small company town of Raccoon City. Arriving at 5:20 at the Sony Metreon, there was already a small but anxious crowd of no more than 12 people at one of the entrances to the Playstation store, where the event was to be held.

A slight confusion began to occur when the line was moved to another entrance to the shop, thanks to a silent employee, obviously not experienced in the wonderful world of crowd who only bothered to tell the first people in the ever-growing line, now consisting of 20+, and assumed that the others would get the hint as the first group began to walk clear across the complex (Those who haven't been to the Metreon should be warned that the place is quite huge with several levels housing many things including an anime theater, a Starbucks and an Imax theater, along with a traditional Cineplex showing Hellboy and the usual sundry garbage-of-the-month).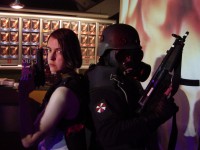 Once now in the "Proper Line", this humble reporter who was wearing a beige photographer vest and STARS team member T-shirt at the time, was asked by two enthusiastic young ladies who were really looking forward to the show if I was dressed up as RE1 hero and acting hack, Barry Burton. Those people who have met me in person can attest I look nothing like the middle aged, balding red haired patron saint of cheesy dialog, so I just nervously smiled and apologized for getting their hopes up. This scene told me two things- one was that, yes little Timmy, Chicks really do indeed enjoy this game series, so don't be afraid to have your collection on display once a member of the fairer sex decides to pay a visit in your room.

The second one was wearing any type of outfit outside of a t-shirt and jeans could get you easily mistaken for a cosplayer (the current slang term for a person in costume.) at one of these events. Take that one as you will. Their costume-hunting attention was soon diverted by the first "cosplayer" of the evening, a young woman, excellently and appropriately dressed up as Jill Valentine from Nemesis, armed with a Air soft Berretta and a few other personal touches.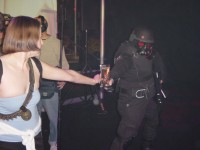 At this time, it was now 6:00 and the crowd was beginning to trail outside the building and everyone began to become a little antsy until a fellow in a white medical bunny suit (think the Intel dancing guys from commercials a few years back) began to hand out raffle tickets.

We were assured we'd be let in very soon, and to entertain us a few soldiers in black began to hand out promo Dossiers of the playable characters in Outbreak and doctors masks with "outbreak" across on them. Zombies soon followed outside, their make up work and costuming was rather well done, looking as if the T-virus struck them in the middle of their daily life, and their antics of shambling across the halls and attacking people, to this reviewer, entertaining. What was rather interesting from this little side show, as could be told from the crowd cheering, was that "Jill", jumped into the fray with replica weapons in hand and began to "defend the innocents" from the local-paid-actors-dressed-as-zombies invasion. This kept us, and the local police dept. busy until they finally opened the doors over 30 minutes late from the original time, 6:35pm.

Welcome to Raccoon City… would you like to buy a Hard Drive?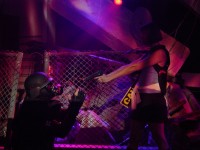 Once the black rope was dropped, the crowd quickly ushered into the store, which had been decorated with some sizable amount of effort to look like a demolished portion of the city and "a laboratory" containing rubble, body bags and more smoke across the floor than seen at Thomas Chong's place on April 20th (ask your parents). This more seemed like the Techno Dance room of the Damned than your local game shop, with digital flames projected on the walls, a few flashes of light blasting across the room at intervals and the occasional bit of indiscernible music playing thankfully not loud enough to drown out the numerous game machines hooked up with the game. Many people were enjoying just discovering what the game offered, from shooting doors open to attacking a monster with a homemade flame thrower. Many of these people were too enthralled to notice the Zombies creeping up behind them, or when the Raffle was occurring, first at every 30 minutes, and then at every 15.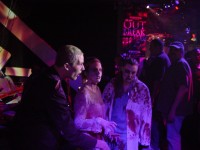 From the people I talked to, only one out of 10 would have any complaints with the game after they tried it out, always fascinated by the next cool thing they could do or find. Those who were waiting patiently for the promise of free watch/compass combos, t-shirts and games, or to play the game were treated to watching the Resident Evil: Apocalypse Trailer, the same one that premiered with "Underworld" and can be seen right here.
The first "guests" of the evening (if you can call them that) was the Official Playstation Magazine film crew taking interviews and shots of, what seemed to be on average, the geekiest looking individuals at the event along with the only two people who bothered getting into costume for this event, "Jill" and a fellow who dressed up as RE2 anti-hero and bonus game king, Hunk. This concept isn't really surprising, as even the media for the video game industry will do its part to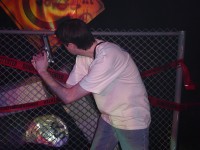 continue the illusion of that every single person who dares pick up a game pad is a potential Oxy-10 test subject with lack of companionship or ambitions outside of the little game discs that they use for their prime entertainment. Exhibit A for this point is the coverage they did for the Final Fantasy Fan Day for the film that was done two years back at this exact location.
The second, albeit quietly and unannounced guest was the CEO of Capcom, who toured the store and the many people playing his companies title before posing with some zombies at the event and quickly leaving, most likely to see Hellboy two floors up.

The Self Destruct Sequence has been activitated… All Researchers and Gamers should take cover immediately.

The hardy partygoers who decided to stick around until the end were treated to more chances to win free stuff, as well as the unveiling of the true grand prize, an authentic prop from Resident Evil Apocalypse. This Prop is a [Potential Spoiler Alert!]
.
.
Disguised carrying case for T-virus samples, made up to look like a child's lunchbox that at the push of a switch in the lower portion of the box, would slide out the container to showcase it's insidious contents within. Click here for an image.
.
.
[End of Potential Spoiler, you can move along and go about your business, these are not the droids you're looking for….]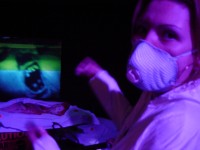 Needless to say, many were chomping at the bit to get their paws on this prize, and it wasn't soon after that a fire alarm went across the building and everyone needed to be evacuated in a "calm and orderly" fashion, which just lead to people entertaining themselves by either blaming Jill for activating the Self Destruct mechanism or by comparing their thoughts of the game. It was about 8:30 once everyone was asked to wait outside, and it wasn't until 8:55 that we got back in. Thankfully the early night air was warm enough to wait around while one die-hard fan was telling me about how he wrote a term paper about the T, G and T-Veronica viruses and the effects they had for a science class, and how the teacher honestly believed that the report was 100% factual and true.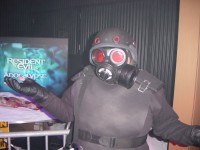 Once back in the Metreon, I noticed that a few fans really wanted to get back into the event, as they began to make a zombified performance that would make George Romero shed a tear.
As the shutters rose once more and people moved quickly inside, all were clutching their tickets like if this was a horrific version of Willy Wonka and the Chocolate Factory, hoping that their number would be the magic one to get them the big package consisting of the Game, the Strategy Guide, a spiffy T-shirt, a Watch and the "lifetime supply of movie style T-virus" and it's handy carrying case.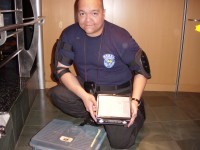 A fan by the name of James, adorned in a blue STARS/RPD shirt and shoulder pads most likely picked up by the local skate shop, stood by me as we took turns looking over our tickets and fiddling with the game, being more interested in making Alyssa "slam-dance" around the Men's room of J's Bar instead of having her find a way out of the monster infested hell hole. Sure enough, after one number was called and unclaimed, the winning ticket was called, and it was none other than James.

The gentleman was a good sport about his winnings, and although you'd figure a few guys would break out tire irons and wait for him to immerge out of the complex, most were rather happy a true fan snatched the much drooled over booty instead of the clichéd and expected result of some confused mother who came in to buy the Winnie the Pooh game for her 6 year old claiming the goods. The fact was also made evident after his interview with the OPM crew, who just wanted to get the entire thing over with to make it to their screening of Hellboy (I kid you not), that he promptly gave away his free copy of the game to another partygoer before showing this intrepid survivalist his catch.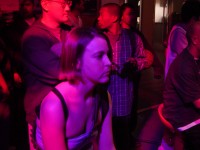 After the raffle, the store began to become as abandoned as the fictional town it was attempting to portray as the manager of the store, who bore a striking resemblance to intellectual heavy weight and professional wrestler "Stone Cold" Steve Austin, gave out t-shirts to both "Hunk" and "Jill", who had just been called Claire Redfield by a passerby employee, thanking them for coming in costume and gave out a few more things to those who stuck around before closing time. It was 9:30 and it was high time I left. That, and I had no idea when the Giants game in the city would end, where the traffic would make any monster making virus epidemic look welcoming to any weary traveler.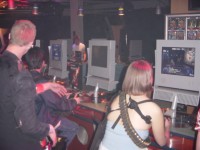 I enjoyed myself immensely as did many others, although I couldn't help but feel that they could have done something more for the event than just a raffle. A competition, a contest, a hearty game of "Whack-a-Zombie"… something to challenge even the bravest of survivors, but still what was shown and displayed there was still enough to keep them happy for their brief visit in the world of Survival Release Parties.
- Mike "Wirebrain" Stevens